You are here: Home / Popular Blackjack Games
Popular Blackjack Games to Play Online Live
Populare Blackjack Games – There are different blackjack games, with many of them really worth it to explore. The blackjack basics are in most variants still in place, but there are slight deviations from the standard rules. Or the rules aren't changed, but there are one or more side bets added to make the game a little bit more exciting. Still, many gamblers think that every blackjack game is the same. So, time to browse through some of the many nice blackjack games. We will briefly review Double Exposure Blackjack, Double Attack Blackjack, Blackjack Switch and Spanish 21. Not an exhaustive list of blackjack games, but the first set of ideas if you are looking for something new. Google will help to find more.
But first, the basic blackjack rules
In case you don't already know the blackjack rules, it is useful to have a short recap of the basic rules. These are essentially the same in all variants we are going to discuss here. Blackjack is a game between you and the casino (represented by the dealer). The winner is the party which comes closest to 21 points. Tricky is that while trying to achieve this by asking additional cards, you may exceed 21 points. Which means you are busted and lose the game. In blackjack an Ace counts for 1 or 11, whatever is better for you. Kings, Queens and Jacks all count for 10 points and all other cards have their face value.
Double Exposure Blackjack, one of the most famous blackjack games
Double Exposure Blackjack means that at the start of the game, both dealer cards are showed face-up. Normally, one card is open and the other is closed. Which makes it more difficult for the player to assess whether he should hit (ask for another card) or stand (stay with the current hand). With Double Exposure Blackjack you have more knowledge about the dealer chances, so more information to decide what the best blackjack strategy is. Normally this would mean that everybody would go for this blackjack version. However, there are a few alternative rules which decrease your win chances to the level of traditional blackjack. For example:
In case there is a tie, the dealer wins (except with blackjack). In regular blackjack a tie means that nobody wins and as a player you keep your bet.
A blackjack pays only 1:1 for the player, while in regular blackjack this is 3:2.
You can only split once.
Note that these are just a few examples, there may be more dependent on the online or live casino where you play Double Exposure Blackjack. The game is also known as Face up 21 or Dealer Disclosure.
Pontoon Blackjack
Since we described double exposure blackjack, we also have to mention a game with growing popularity, Pontoon Blackjack. With Pontoon Blackjack the dealer cards both stay closed, so it is basically the opposite from Double Exposure. This is compensated by a better pay-out for blackjack (2:1 instead of 3:2) and an additional side bet, the 5-card trick aka Charlie.
48 cards blackjack games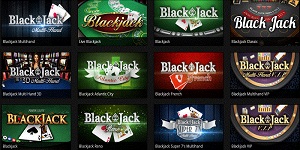 There are also some games which are played with a so-called 'Spanish deck' that only contains 48 cards since all 10's have been removed. Examples are Spanish 21 Blackjack and Double Attack Blackjack:
Double Attack Blackjack has essentially the same rules as traditional blackjack, however there are a few side bets with high pay-outs. You can bet that the dealer busts at three cards. Your pay-out ratio is then based on the value of the third dealer card. If the third card is for example a 9, the pay-out is 6:1. And for very specific combinations of dealer cards the pay-out can even rise to 200:1. Where the wins in blackjack are normally very small (3:2 for a natural blackjack), this option brings a small chance for bigger wins. It adds to the dynamics and fun.
Spanish 21 is also comparable to regular blackjack, with few deviations for Double Downs, Split etc. Really different are the win possibilities if you have 5-card 21, a 6-card 21 or even a 7-card 21.
Blackjack Switch
In Blackjack Switch you play two hands simultaneously. You might say that is already known as multi-hand blackjack, but there is a twist here. After you receive your two hands you are allowed to switch cards between your hands to improve your chances.
Single Deck blackjack
This is not really one of the alternative blackjack games. It is exactly the same as standard blackjack but it is played with a single deck of 52 cards. Nowadays casinos typically use 6 or 8 decks at their blackjack tables. This causes an interesting impact on the casino house advantage. It lower till 0,17%. This extremely low value makes Single Deck blackjack very popular among the fans. Watch out however, in order to compensate for this lower house advantage, some casinos adapt for example the blackjack pay-out (from 3:2 to 6:5). This seriously decreases the RTP of Single Deck blackjack.
More popular blackjack games to explore?
These are just a few examples of alternatives for the regular blackjack game. There are also options like Super Fun 21 Blackjack, 21+3 Blackjack, Lucky Lady etc. Be aware that many of these are based on side bets which are more or less isolated from the main game. While blackjack has a very good RTP compared to other casino games, these side bets are often less attractive from an RTP point-of-view. However, they introduce a small chance for bigger wins as we already explained for Double Attack Blackjack. For this reason, they are often quite popular. Always check the detailed rules for these blackjack games since they may differ per online casino. Have fun!
LIVE BLACKJACK CASINO TOP 4