You are here: Home / Live Casino HoldEm
Live Casino HoldEm – Introduction
Live Casino Hold'em poker is arguably the most famous of all poker games. Hence it's also a big hit in the online casino world nowadays. Casino Hold'em is a popular variant of Texas Hold'em poker and it is one of the most commonly played and widely distributed live casino poker games you can find on the internet. Whether you want to play with the big boys, or are just starting out in the world of live poker games, Casino Hold'em has something for you.
Only two versions one can play
Live Casino Hold'em is a variant of Texas Hold'em poker itself. However, even this game – which has been developed by Evolution Gaming – has one or two subtle variants. Changes in the rules for each variation for the game are there for you to enjoy. Therefore let us begin by looking at the two main types of Live Casino Hold'em games you can expect to find in this developers' library.
LIVE CASINO HOLDEM
Live Casino Hold'em: Key-feature of the main offering from Evolution Gaming, Live Casino Hold'em is the full interaction with the dealer and other players. Unlike standard Texas Hold'em poker games, players are not competing against one another in this game. At Live holdem the aim of the game is to defeat the dealer alone. Because of this, there are no "seats" at the table. Therefore as many players can try their hand at this game as they wish.
BONUS BET / PROGRESSIVE JUMBO 7 JACKPOT
Bonus Bet/Progressive Jumbo 7 Jackpot: In another twist on the main game, Bonus Bet and Progressive Jumbo 7 Jackpot Live Casino Hold'em games offer the same gameplay as above. Although with side-bet cash prizes are up for grabs, the prize at stake is the biggest progressive jackpot prize for any live dealer casino game. And to add even more thrill, this prize is uncapped. If players land a 7 Card Straight Flush (with the side-bet active) they will win the prize. Smaller jackpot prizes can be won with other fixed hands of a lower rank. Jackpot prizes are, of course, paid out even if the player loses their poker hand against the dealer.
About Evolution's Live Casino Holdem Games
Live Casino Hold'em poker games are a major lure for any player seeking that Texas Hold'em style gaming experience at their favourite live casino site. Games are primarily streamed from Riga. Although some more lavish variants may be streamed from other locations across the globe. This depends on the casino you are playing at.
Each of the games comes with multiple camera angles for you to choose from. In addition High Definition (HD) quality video streams and a mobile-friendly interface add to the player-experience. Furthermore players can also expect random shuffling. Remember just a single deck of cards is used in these Live Casino Holdem poker games.
Players who like the sound of what Live Casino Holdem brings to the table may wish to try their hands at Evolution Gaming's Live Texas Hold'em Bonus poker. Want even more thrill? Why not choose to join at the Live Ultimate Texas Hold'em poker table? And if that is not enough they can play Live Caribbean Stud Poker casino games too as most of the poker varieties work in much the same way.
How to Play Live Casino Hold'em
One of two hold'em live dealer poker games you can find at online casinos, Live Casino Holdem is arguably the easier of the two to play. The main reason for that is that you are playing solely against the dealer and not other players. Even so, there are still rules that you are required to learn to play. Fortunately, they are easy to get to grips with. Live Casino Hold'em is played as follows…
The Bet: As with any poker game, players first need to place an ante bet before anything else happens. This is your buy-in, and after the bet is made the dealer will start the game.
The Deal: To begin with, the dealer will hand you two cards, two cards to other players (again, you don't have to worry about those) and two to themselves. You won't be able to see the dealer's cards. They will also place three community cards face up in the centre of the table. These are known as flop cards.
The Value of the Cards: If you know anything about poker at all, you will know the ranking of the hands. If not, you need to get these into your head straight away. The order of value for the hands in Live Casino Hold'em is as follows: Two Pair, Three of a Kind, Straight, Flush, Full House, Four of a Kind, Straight Flush and a Royal Flush.
The Play: Players will be able to figure out roughly what they have already from the two cards in their hand and the community cards. Your objective here is to make the best five-card hand you can. Players can choose to fold and lose their bet or call and place an additional bet worth 2x your ante bet.
The game starts
If you chose to call, then two additional community cards are added to the flop. The fourth and fifth cards have names (the turn and the river cards, if you're interested). You now have 7 cards (your two plus the five community cards) with which to make a five-card hand. The dealer will then turn over their two cards, and the hands are compared. The highest-ranking poker hand wins.
However, the dealer must have at least a pair of 4s to qualify. If they do not have at least this hand, the ante bet is paid out according to the paytable below, and the call bet is returned as a push. If the dealer qualifies and beats you, you lose both bets. If the dealer's hand qualifies and you beat it, you will pocket a 1:1 payout on your call bet and pocket an ante bet prize based on the paytable below.
Pair: 1:1
Two Pair: 1:1
Three of a Kind: 1:1
Straight: 1:1
Flush: 2:1
Full House: 3:1
Four of a Kind: 10:1
Straight Flush: 20:1
Royal Flush: 100:1
Bear in mind that some Live Casino Holdem games have slightly different paytables, so the payouts you can win may vary.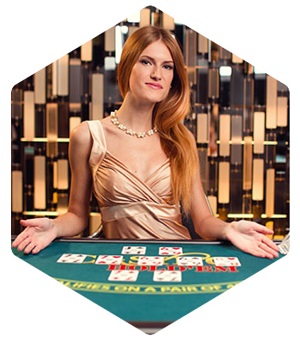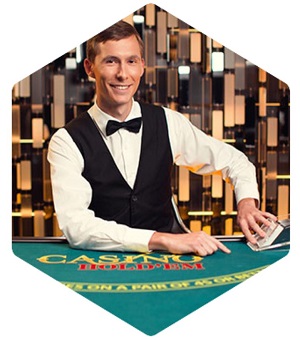 Things You Should Know
Native speakers are available
Even though most of these games are streamed out of Riga, Latvia, the dealers can speak a variety of languages. Evolution has made certain that English, German, French and other common languages can be spoken by their dealers. Thus enabling them to cater to all.
You can't play against other players, but you can interact with them
Even though you cannot play against other competitors in Live Casino Hold'em, you are free to talk to other players. This helps create a community and can allow you to bond and build friendships with fellow live casino poker players. Just us the chat function to communicate.
Like most live dealer games from this developer Live Casino Hold'em can be played simultaneously alongside other live casino games. This means that you can try your hand at Baccarat, Blackjack, roulette, Dream Catcher and other games while still playing Live Casino Hold'em.
Beware of those progressive prizes
While the potential to win untold jackpots by landing a 7 Card Straight Flush sounds like a very appealing prospect, you must remember that this is not going to be easy – at all. The side-bet you wager may turn out to be too costly in the long run. Because of this, we recommend only placing side-bets on the progressive games if you've got money to burn.
Pros and Cons Live Casino Hold'Em
Live Casino Holdem is a fine live poker game for both newbies and professionals alike to play. It has plenty of pros, but it is not without its drawbacks, either.
Pros:
You only play against the dealer, which makes it ideal for newbies
Commonly found at most major casinos
Only one deck of cards is used, giving you a chance to "read" the game
Cons:
Gameplay tends to be short and fast
Only a few, limited variants exist
conclusion
Live Casino Hold'em poker is a treat to play if you like your Texas Hold'em style poker games but aren't necessarily confident that you have the skills to take on other players. Similarly, if you're a bit of a poker pro, you'll stand a good shot at taking money from the dealer in this game. Simple to play and with a progressive jackpot which can change your life to boot, it is not difficult to see why this live poker game is among the best online.
LIVE CASINO HOLD'EM TOP 4 CASINOS ONLINE