You are here: Home / Playing Football Studio Live
Playing Football Studio Live – Introduction
Football Studio Live Casino burst onto the scene in the summer of 2018, just in time for the FIFA World Cup in Russia. Initially, it was not known if the game would go on to be a long-term offering for live casino players. However, after proving something of a success, Evolution Gaming reworked the international side of the game into a general football game (loosely covering European football) and made it a permanent fixture at casinos offering their software.
With a name like Football Studio Live, you might have all sorts of expectations. However, Football Studio is a game which will likely surprise you. Instead of a sports-betting app or virtual sports game; Football Studio is more closely akin to Dragon Tiger. In fact, in some countries, Football Studio has been called Top Card, in a bid to differentiate it from other games. Football Studio is arguably a more descriptive title for the game, as you will see as dive headfirst into this live dealer casino game.
But first, what is Football Studio Live Casino?
Evolution Gaming's Dragon Tiger has proved popular with the Asian market. Football Studio is the European equivalent if you will. It combines hot football gossip, live scores, and simple card gambling games. If you are footy mad, you might find the game right up your alley. You could also argue that Football Studio has similarities with baccarat, but the truth of the matter is that this game is far simpler than that.
The Basics of the live studio game
As with most of Evolution Gaming's "live casino game shows" range of titles, the game features a host. This host is often a football expert. While the game is being played, he will keep players up to date with the hottest gossip from the football world, engage in lively chit-chat surrounding the beautiful game, and update players on the latest scores from the football world. You will not get to see any matches live-streamed, but a commentary service is available.
These are all lovely trinkets to have worked into the game, but what about the game itself? As mentioned, Football Studio is essentially a sports-themed game which is loosely based on the Asian favourite, Dragon Tiger, which is another game that has been produced by Evolution Gaming, if you are interested. Football Studio is streamed out of Canada, Georgia, Latvia, and Malta, and can commonly be found at most top casinos offering live casino games from Evolution Gaming.
Win, draw or loose?!
Ultimately, your objective is to bet on a home win, an away win, or a less fanciful draw. After betting has taken place, a "team" will be declared the winner, based on the values which appear on the cards. If this sounds confusing, you need not worry. It really is not. You can learn how to play this game in mere minutes. Let us show you how…
Setting Up a Bet with the live casino game
There really is not much skill involved in betting on Football Studio, so you can sit down and play the game with virtually no experience at all. Of course, if you know how Dragon Tiger works, you can start playing the game immediately. If not, here is what you need to know.
To begin with, you need to look at the menu panel which appears on the screen. You will see that you have a series of chips which you can use to place a bet. You can select any number of those chips and place them onto the bet of your choice. Your options include a Home Win, and Away Win, or a Draw. Statistically, a draw is by far the least probable outcome, so it is the riskiest bet to make.
Whatever you decide to go with, your bet must fall somewhere between the minimum and maximum table limits. These are set to $1 and $5,000. The limits may vary from casino to casino, but they are good ballparks figures to keep in mind. You will have roughly thirty seconds (sometimes longer) to place your bet. Once this has occurred, the betting window closes, and the game begins.
Playing the card game at live casinos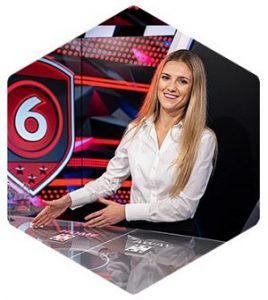 There are eight decks of playing cards used in Football Studio, and these are randomly shuffled by a cardshuffler. Once the game begins, a single card will be drawn by the host and allocated to the home team, while a second card will be drawn for the away team. These represent the scores of the match that is virtually played.
As long as you have wagered on the right team, meaning that team which wins, or a draw should that be the final outcome, then you will win a prize. If not, you will lose. As baffling as this sounds, that really is all there is to the Football Studio game in a live casino. Even the most inexperienced card players can sit down and get to grips with this game in a matter of seconds.
However don't let the "simpleness" of the Football game fool you. Just like the thrilling cardgame of Baccarat this game has left many players with a pounding heart. Just like a real Football game. Opposed to a match that last two times 45 minutes (if one is lucky!) the outcome of Football Studio is fast, none debatable and straight forward. No referee that calls wrong or linesman that has more attention for the audience than the ball.
Winning playing Football Studio
Whether you win in Football Studio or not depends on the outcome of the hand. The team which has the highest score will win, except in the event of a draw. Successfully predicting a home or away team win will result in a payout of even money (1:1) coming your way. However, if you successfully predict a draw/tie, then you can net winnings of 11:1. If you opted to place two bets (one on a tie and the other a winner), you would pocket the winnings for your tied bet and have half of your home/away "winner" bet returned.
As you can see, you should not expect astronomical wins in this game, but you do have a more than reasonable chance of success. In fact, provided you stay away from the tied bet, you are looking at a 50/50 chance of success in Football Studio. Yes, you read that correctly, the RTP rate in this game is zero. This naturally makes it very advantageous for players.
FOOTBALL STUDIO LIVE CASINO TOP 4