You are here: Home / Live Baccarat
Introduction to Live Baccarat
Live Baccarat – There are lots of untruths surrounding baccarat games. You may often hear that the three-card rule is too difficult to grasp, or that baccarat is a game only for superrich Asian players, and is thus, unaffordable. None of it is true, though. When you sit down to play Live Baccarat and its many variants, you can enjoy gameplay without having to worry about the third-card rule, and there are tables open for everybody, no matter their budget.
Live Baccarat Variants
As the largest developer of live casino games online, Evolution Gaming naturally has a vast collection of titles for you to play. A good number of those include live baccarat games. There are VIP table games, variants with slight tweaks on the rules, and some baccarat games which offer a whole new style of side-bet gameplay. Let's take a closer look at some of the live baccarat games you can expect to find from this provider, starting with the basic game, simply known as Live Baccarat.
LIVE BACCARAT
The vanilla version of baccarat, Evolution's Live Baccarat is a mobile-friendly base version of the famous game. It features 8 decks in the shoe and has adjustable video streams which can be altered based on the performance of your connection. The game is also fully compatible with iOS and Android mobile gaming devices
SQUEEZE
A baccarat game for players who like suspense, the Live Baccarat Squeeze variant is almost identical to Live Baccarat. The main difference is that there are over 15 cameras present, and each one provides close-ups of the game to those players who want an added sense of excitement. Note that the dealer will also squeeze the cards (with a close-up cam), just like you would expect to find in Macao-based brick and mortar casinos
CONTROL SQUEEZE
Again, this baccarat game is identical to Live Baccarat (and Squeeze), although, in this variant, players can control the squeeze. They can do so by adjusting the camera feed as they see fit. In almost every other way, though, there is no difference between Baccarat Control Squeeze and the previous two variants
MULTI-CAMERA LIVE BACCARAT
Evolution likes to offer many variants, even though they are all somewhat similar. Multi-Camera Live Baccarat is another example. Following a similar pattern to their Immersive Lite Roulette game, this live dealer game provides constant camera changes, taking you right into the heart of the action
SPEED BACCARAT
Live Speed Baccarat is the real game changer. Here is a baccarat game which does differ from the others. The main point of this variant is the gameplay is super quick, lasting just 27 seconds, a full 21 seconds less than a game of Live Baccarat from the same developer. The average betting time in this game is around about 12 seconds, and there is no waiting time for the third-card rule
OPTIONAL SIDEBETS - CHOICE OF ROADS
Most of this developer's baccarat games come with side-bets. It is common to find the Pairs side-bet in these games, and these can see players win 11:1 if they land a Player Pair or a Banker Pair side-bet. However, other side-bets can include Perfect Pairs, Player Bonus, Bank Bonus, and Either Pair, and some prizes can be worth up to 200:1 if you land them. Keep an eye out for Choice of Roads baccarat games, too, as these showcase the results of each round in Bead Road, Big Road, Big Eye Road, Small Road and/or Cockroach Road. These are ideal players who like to an in-depth analysis of the previous hands in their games.
VIP TABLES
The VIP live baccarat games you can play vary. Live Baccarat, Multi-Camera Live Baccarat, Live Baccarat Squeeze, and side-bet baccarat games all offer VIP tables. Each casino may also have its own VIP baccarat game, often known as Salon Privé games, and they provide the same gaming experience as Live Baccarat, albeit with much higher table limits for the high-roller in you
About Evolution's Live Baccarat Games
As you can see, there are plenty of Live Baccarat variants out there for you to play. By and large, though, they are all quite similar, with only a touch of rule changes about them. Most of this developer's live baccarat games are streamed from Riga in Latvia. However, some of the VIP/Salon Privé games also come from land-based venues in Malta and Canada. All games can be played with multiple cameras, in HD video streams, and all are mobile-friendly. As mentioned, if you're playing the right variant, you can also alter your cameras to take you to the heart of the action. Almost all live baccarat games feature 8 decks and random shuffles.
How to Play Live Baccarat
Playing live baccarat online is a relatively simple process. There are plenty of variants out there, though almost all of them are played the same way. If you're new to live baccarat, here is a brief how to play guide to get you started.
The Bet: Players must first decide which hand they wish to bet on. You can choose to bet on the banker or the player hand to win. Alternatively, players can choose to wager on a tie, although this is the most unlikely outcome.
The Deal: With the bets made, the banker will distribute two cards to both the banker and dealer hands. 2s through 9s are worth their own numerical value in points. Aces count as 1-point cards. All face cards and 10s count as 10-point cards.
A winning hand will be worth as close to 9 points as possible. Unlike blackjack, a hand cannot go bust. If you have a hand which is worth more than 9 points (a Queen and a 7 would give you a 17-point hand, for instance), the first digit of the total is dropped. In our example, a 17-point hand would thus become a 7-point hand.
Third-Card Rule: On occasion, a third card may be required. Should either the player or banker's hand be worth 8 or 9 points (known as a Natural), no third card is taken. If the total of the player hand is less than or equal to 5 points, the player's hand will receive a third card.
Options one can use playing Baccarat
Should the player's not hand require a third-card, the banker stands on a hand worth 6 or more points. If they have a hand worth 5 points or less, the banker will take a third card. However, if the player's hand does receive a third card, then the banker's hand will receive a third card only if the following is true:
If the banker's hand is worth 2 points or less, they will take a third card. When the banker has a hand worth less than 3 points they will take a third card unless the player's hand receives a third card worth 8 points. Now if the banker's hand is worth 4, they will again take a third card, unless the third card in the player's hand was worth 0, 1, 8 or 9 points. Does the banker's hand is worth 5 points and the player's hand drew a 4, 5, 6 or 7-point third card, they will take a third card. Has the banker a hand that's worth 6 points, they will take a third card only if the third card in the player's hand was worth 6 or 7 points. Lastly, the banker stands on a hand worth 7 points and does not take a third card.
Game on!
After the drawing of third cards (if any are required) the hand which is closest to 9 points wins. A successful bet on a player's hand will deliver wins worth 1:1. However, if you successfully bet on the banker's hand to win, you will only receive 0.95:1 since there is often a 5% commission to the house on this bet. Successful tied bets are worth the most at 8:1.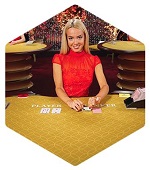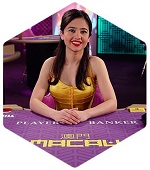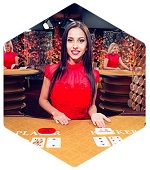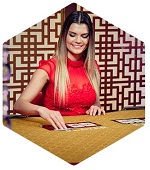 Pros and Cons of live baccarat
Baccarat has its good sides and its bad ones. There are more pros than cons, though. If you're contemplating playing Live Baccarat, here are few reasons why it may (or may not) suit you.
Pros:
You can have total control over the cameras
When playing online, you don't need to remember the tricky third-card rule
Superb quality and multilingual video streams from across the globe are available
Cons:
The variants which exist are all rather samey, save for Speed Baccarat and VIP Baccarat
Newbies and pros tend to be lumped together at the same tables
Conclusion
Even though most of the variants listed are incredibly similar, there is still quite a gulf between the experiences you can have, depending on what you're after. Baccarat is not just for wealthy Asian players in Macao, or James Bond. Those hackneyed stereotypes will be broken just as you have a crack at Live Baccarat. You may find that it (and its many variants) suit you down to the ground.
LIVE BACCARAT CASINO TOP 4