You are here: Home / Playing Auto Roulette Live
Playing Auto Roulette Live – Introduction
Auto Roulette Live is a fully automated version of live roulette. It is roulette without a live dealer which nevertheless offers a real casino experience. You can play the exciting Auto Roulette game on any device. On traditional computers or laptops, but also on your tablet or smartphone.
But first, what is live roulette?
Often, people mix up the terms 'live roulette' and 'online roulette'. While both roulette versions are indeed played online, there is an essential difference. With online roulette you play roulette as a video game. The roulette wheel, the ball and the table are all animated by software. You see a spinning ball which in the end drops into a pocket like in real roulette. But as a matter of fact the number is picked by the Random Number Generator software and the wheel is just an animation.
Live roulette is something completely different. You participate in a real roulette game with real equipment. The wheel really spins, the ball really ends in a pocket and you see a real roulette table. The only benefit compared to a real casino is that you don't have to leave home to enjoy the game. You can join the live casino from your couch.
Live roulette from Evolution Gaming
There are many different live roulette variants, but the live roulette version of Evolution Gaming is one of the leading examples. The company is known for its ability to create an optimised user experience using full HD camera technology in advanced studios. Players can even control the camera direction and set their own viewing preferences.
Live Dealers at Evolution are well-trained and speak the language of the casino target audience. You simply join the casino table directly from your living room and it feels if you are there. The live casinos don't provide a 'one size fits all' experience. Some players may prefer the personal touch of a real croupier or dealer and like to have a chat. While other don't like the delay and small talk. For the latter group, live auto roulette is a very popular option. It provides the player with around 60 to 80 roulette rounds an hour.
Auto Roulette Live, how does it work?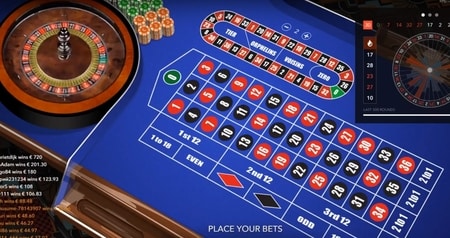 Auto Roulette Live combines the look and feel of a classic casino game with high speed game operations. The roulette ball is not launched by the trained fingers of the dealer, but by an advanced slingshot mechanism. This mechanism uses an air puffing mounted on the ball track. It launches the ball directly into the wheel.
Since the dealer has left entirely, you typically won't hear 'no more bets, please' or 'rien ne va plus'. Instead, you experience a much faster gameplay with more rounds per hour. If you like playing live roulette online, but don't like all the fuzz around it, you may prefer this alternative. The missing dealer, the slingshot mechanism and high-speed game execution are the only differences. The roulette rules are exactly the same, as we will summarise below.
Game rules of auto roulette
As said, the roulette rules are entirely the same for Auto Roulette Live. Core of the game is the roulette wheel which consists of 37 pockets, from 0 up to and including 36. Or 38 pockets if you play American roulette which includes a double zero. At the roulette table you can make a variety of bets. Some of them are called inside bets, others are defined as outside bets:
With inside bets you are betting on one or more specific numbers on the table. For example, you can place a straight-up bet on a single number. By placing a chip on a line or cross-point between two or more numbers, you can also bet on a combination of numbers. Examples of such bets are a split (two adjacent numbers), a street (three consecutive numbers) or a six-line (a bet on two adjacent lines).
So called outside bets are made by putting chips on one of the fields outside the number area of the table. They facilitate the less risky bets on larger series of numbers. You can play for example on dozens or columns. But also on all red or black numbers, al odd or even numbers or a range from 1-18 or 19-36.
Special roulette bets
A third, less familiar kind of betting is called neighbour betting. Using the roulette table neighbour layout you can bet on series of numbers with adjacent positions on the roulette wheel. The numbers on a roulette wheel are not placed in a logical, numerical order. Instead, high and low numbers as well as even and odd numbers are evenly distributed across the wheel. One of the theories behind this design is that the average players wouldn't recognise a biased wheel since they don't know the order of numbers on the wheel. But since there is also a group of people who like the idea that they bet on a certain section of the wheel, the neighbour print is used. It provides an easy way to select a set of adjacent numbers on the roulette wheel and bet on it.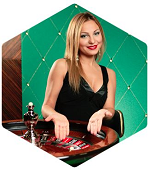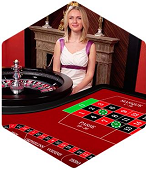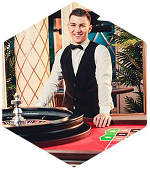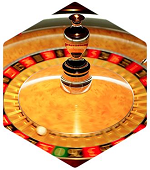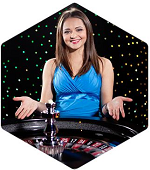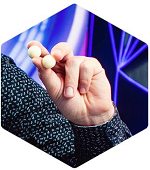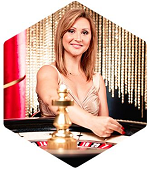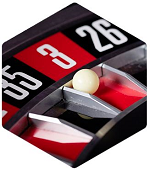 How do you bet at Auto Roulette Live?
Betting at Auto Roulette is very simple. By just clicking one or more chips and selecting the bets of your choice, the software automatically registers your bets. Watch out not to accidently click multiple times on the same chip since each click adds a chip to your bet.
Of course, it is possible to play multiple bets during each round. You can for example place a chip on a single number but in parallel also on a column, streetline or box. All combinations of bets are allowed. Betting can be continued during the launch of the ball and the initial spinning phase. As long as the betting indicator is green, you can still add or change bets. When it turns orange, the betting window is closing and when it is red, you cannot alter your bets anymore.
Then you must wait until the ball drops into the destination pocket, approximately 20 to 30 seconds after the launch. The roulette software immediately calculates the wins and losses of the various players and all balances are updated. The pay-outs when you win are related to the chance of the specific bet. In case you bet on a single number (let's say 23) and you win, the pay-out is 35:1. Which means that in case of a bet of 1 dollar, you win 35 dollars. For the less risky bets (like red-black or even-odd), the pay-out is 1:1.
Do you use a roulette betting method?
Since auto roulette runs fast, people tend to use a structured method to quickly define their next bet. There is a variety of roulette playing systems like the Martingale, d'Alembert or the Paroli system. Although some people claim that these systems on the long run help to beat the house, be careful with them. They help you to structure your bets but roulette is a game of chance and in the end there is always a house advantage, whatever roulette system you play.
Do you prefer a fast and dynamic roulette gameplay?
A live streaming roulette game is for many gamblers far more attractive than the typical videogame-like online roulette games. However, some people less appreciate the time-consuming chit-chat with croupiers or dealers. They just want to play roulette at a real table. For this group, live auto-roulette is a great alternative. Just give it a try.
AUTO LIVE ROULETTE CASINO TOP 4